Approach People Recruitment SA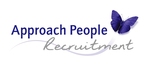 Approach People Recruitment SA ist eine fuehrende internationale Personalberatung mit Standorten in Paris, Lyon, Dublin, Barcelona sowie Genf.
Av. Portal del Angel 38, 08002 Barcelona, Spanien
Who we are

Approach People Recruitment was first established in 2000 and since then has become a leader in international recruitment. Our wealth of wide-ranging experience in specialized and multilingual recruitment allows us to offer the right and uniquely tailored solution to each employer, whatever their recruitment requirements. We combine our expertise in international recruitment with our deep understanding of the European markets and we harness this effectively in order to develop customised HR solutions for each of our clients.
We, at Approach People, above all else, are committed to delivering service excellence and our quality driven and efficient service has already satisfied many of the World's leading multinational companies.
Building on our success, we now operate in the majority of Western European countries via our offices in Paris, Lyon, Dublin, Barcelona and Geneva. Our 60 consultants, 35 of whom work in our Dublin office, possess invaluable market insight and a deep understanding of their respective fields.
Our long-standing experience in multilingual recruitment means that our candidates are not only highly skilled in their specific fields, but many are also native French, German, English, Spanish, Italian, Portuguese, Dutch, Flemish, Asian, Nordic and other Eastern European languages. They all possess a very high level of fluency in English.
Our approach
Deliver a quality driven service
We are constantly striving to improve and develop our range of services in order to provide our clients with the best HR solutions.
Value our candidates' expectations
We take into consideration each candidate's expectations and career path. We try to find employment opportunities that correspond to a candidate's profile and to provide them with interesting career opportunities, both in terms of the position and progression potential.
Promote an international mobility
Our consultants have access to a database of multilingual candidates which is shared across all of the European countries in which we operate. We believe that international mobility can offer great career opportunities.
Aktuell sind keine Angebote online.